The MessageNet Blog
Get The Message Out!
Connections Mobile is both a user interface and a mobile app, designed to be While some administrative tasks will have to be performed by the on-site system administrator in the Administrative Interface, Connections Mobile is designed to be the primary user interface for most users. The new interface is vastly simplified for ease of use and removes the need log in to the Administrative Interface for most regular users.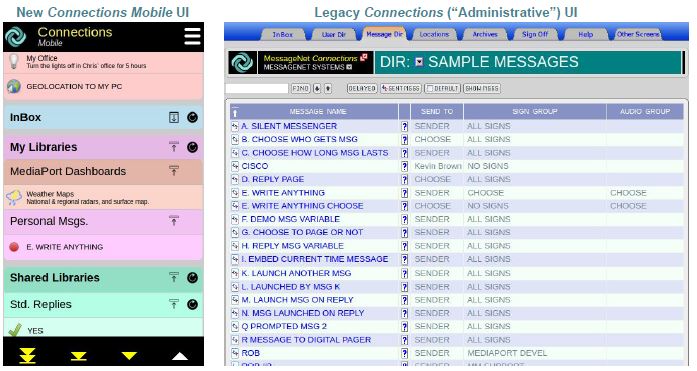 It's available on computers, tablets, and smart phones and functions the exact same way regardless of the type of device you use. Messages saved to the app are tied to your user log in and so can follow you from device to device as you log in. Messages can be saved to Connections Mobile from within any message directory and can be then reorganized and edited by each individual user with their app without affecting the original message, allowing users to create their own custom interface that is accessible from any web browser.
There is an official app for iOS devices available in the App Store that can be downloaded and installed on Apple devices. For computers and Android devices, Connections Mobile is available from the web browser, accessible in the same way you were able to access the Administrative Interface. Logging in to Connections Mobile anywhere is as easy as selecting the Connections Mobile option when following the same steps you always have for logging in.
All of MessageNet support is done remotely, so it's vital to maintain remote access to the MessageNet server for the MessageNet support staff and to keep them apprised of any changes with it that could affect access to the system. SSH access with a remote IP address is preferred, but a VPN is also acceptable. For security purposes, ssh remote access to the MessageNet server is limited, so any changes made to the network also need to be updated on the server by MessageNet support staff. If this change isn't made, remote access to the user interface for all users will be broken until MessageNet staff update the remote IP address on the server. For VPNs, it can be time-consuming to make any changes and it's best to test remote access with MessageNet support staff to ensure that it's working as soon as the changes are made so that support tickets are not affected by a wait for VPN adjustments.
One way to keep records of everything that happens in the MessageNet system is to set up messages to be saved to the Message Archives when they expire. Messages that are set to archive will later be viewable via their Archive Directory as well as by the sender and recipient of the message. If a message is not set to archive upon expire, then the message records will disappear after expiration and cannot be retrieved.
Note that while keeping records of messages can be important, launched messages are also recorded in the log files. Archiving allows you to organize saved messages any way your want, but the archives do take up space on your server, so it is important to decide which messages would be worth saving and which are not. If you need to create records of certain types of messages, setting up archiving is recommended.
In the administrative interface, navigate to the Message Editor for the message you want to archive. Scroll down to the Message Controls section, or click on the Message Controls link at the top of the screen. Then, in the Archive to Directory field, enter the name of the Archive Directory that the message will be saved in. If that name already exists as an Archive Directory, the message will save to it upon expiration. If that name hasn't yet been used for an Archive Directory, an Archive Directory with that name will be auto-created when the message expires for the first time.

Alternatively, you can create new Archive Directories from the Directory Archive Manager (available from the Other Screens tab). Keep in mind that if you create a new directory here, you will still need to add it to messages in the Message Editor in order to save messages to it.

If you are a user of the MessageNet system but not the system administrator and have forgotten your MessageNet password, please contact your on-site system administrator for a password reset. For security reasons, MessageNet support staff are unable to manage users or reset passwords.
For on-site system administrators, to reset a user's password, log in to the MessageNet Connections administrative interface, click on the Other Screens tab, and select User Database Manager. Your own user profile will appear as the default. To navigate to another user's profile, you can click Browse and search through the full list of users, or you can enter the user's surname into the Last Name field and click Find.
If there are multiple users with the same last name, you may need to click Next until you find the correct one. Once you are at the correct user profile, change the password, click Save, and then give the updated password to the user, who can then change it again if needed once they have successfully logged in.
MessageNet Connections is browser-based on PCs and on Android devices (while the mobile app for Apple devices has been released, the Android version is still in progress, so a web browser must be used on Android devices until the app is released), so to log in, navigate to any web browser and enter the MessageNet server's IP address (or dns host name, if your organization uses that instead). You may need to obtain this information from your on-site MessageNet system administrator. Once you have navigated to the log in screen, the MessageNet logo will appear.
Click anywhere on the logo and the sign in window will pop up. If it does not, you may need to allow pop ups from that address. Enter your user name and password into the appropriate text boxes. If you do not know your user name and password, check with your on-site system administrator. For security reasons, MessageNet support staff cannot manage user accounts or reset passwords.
To log in to the administrative interface, click the Connections button. To log in to the Connections Mobile user interface, click on the Connections Mobile button. Some web browsers offer the option to save your log in information so you don't have to type it in every time. If you choose to do this, the button for Connections Mobile may appear grayed out. If this is the case, simply click in the password text box and the Connections Mobile button will become clickable.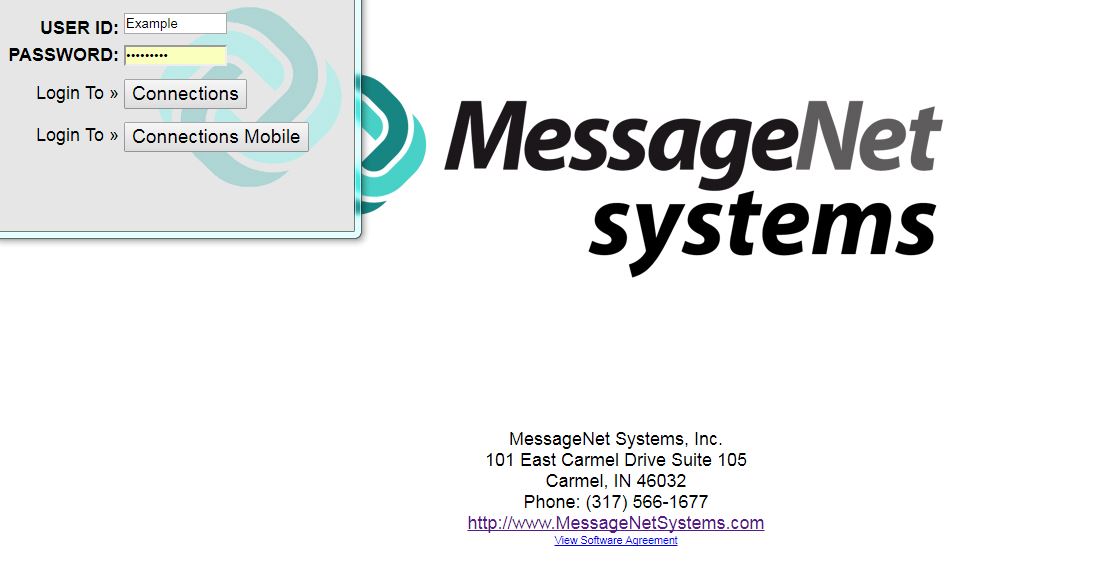 If your MessageNet server is a black 4U server, it has an AMD processor in it and is not affected by the recent Intel security flaws. However, if your server is a newer silver 1U Dell server, then the processor is by Intel and may be affected by the security flaws. Any patches to fix this issue would be at the hardware level, provided by Dell on their website, and would therefore need to be applied directly on the server by someone on-site and cannot be done remotely by MessageNet support staff. Note: It is possible that applying a patch may cause the server to slow down by up to 40%.
In order to avoid risking lost data in the event of a server failure, it's very important to have a complete backup of all of the MessageNet server's data. Because every customer's system, network, and organization are different, MessageNet cannot provide or suggest a backup method. However you decide to back up your data, however, it's important to backup everything, as data restoration may be impossible without a full backup. A full backup includes everything in the server's root partition and home partition. The paths for these two partitions are:
/
/home
Last week, I wrote about how important it is to have a plan for emergency events. More lives are saved when a plan is in place and everyone knows what to do, rather than simply reacting to the situation.
The Council of Educational Facilities Planners International have released Safe Schools: A Best Practices Guide, for that very reason. The guide, available in PDF form for free online, emphasizes the need for communication in a crises. In fact, page 7 of the guide is titled Crisis Communications.
The guide lists recommended devices, including PA, cameras, multiple communication devices, broadcast messaging, and a plan, all of which MessageNet Connections can provide. We go a step further, however, and use the emergency system for everyday communications as well, to ensure that users won't forget how to use the system before an emergency happened.
While everyone hopes that emergency situations don't arise, it's important to not let one take you by surprise. According to Campus Security Magazine, your emergency alert system is 'only as good as your plan'.
Having a plan in place for any possible emergency situations is important and can save lives. However, Campus Security also believes in testing your emergency communication system regularly. Though they see this practice as a requirement to ensure your system works properly if and when an emergency arises, it can involve considerable time and expense for your organization. Eliminating this cost is why MessageNet Connections isn't designed to be just an emergency system. It's also designed for every day communication; when used daily, users won't forget how to use it in between emergencies and so that it's effectively tested every day via constant use.
The article also discusses many different systems without talking about how they might work together. MessageNet Connections can integrate with many different types of systems, so it's easier to unify communications and emergency alerts, rather than having many different emergency systems for different scenarios.
One integrated system that is used every day can save lives more easily and be cost-effective and more efficient at the same time.
All technology eventually fails. Cars, phones, tablets, computers, even MessageNet servers.
MessageNet Connections, which is often heavily relied upon for both everyday and emergency communications, is software and web browser-based. However, the hardware that supports it unfortunately cannot last forever. Many customers that have been with MessageNet for many years and have much older servers find that their hardware begins to fail; and the way they've got their system set up means that until they can purchase a new server, they're completely without MessageNet services. In addition, if the server failure stems from the hard-drive, data may not be recoverable and the customer would have to start from scratch.
It's important to have the right setup to protect data. MessageNet usually recommends having a redundant server setup so that if one server fails, there's a second one to act as back-up. However, this isn't always possible, so instead keeping a saved copy of the MessageNet hard-drive can prevent data loss and decrease down-time if a new server is needed.